We are a team of professionals committed to sustainability with a strong focus on innovation.
Syntec provides customized services that support the prototype development and validation to encourage innovation which helps to reduce the carbon footprint in productive industries processes.
Syntec has agreed a partnership with ASICORP S.A. a consultancy company specialized in anticorrosion solutions and engineering designs to protect metal, concrete and other substrate structures exposed to highly demanding conditions and harsh environments.
Thanks to their specialization in corrosion control, ASICORP S.A. developed an innovative device for steel pipelines named SIDGMAN® Coupling that allows joining the pipes through welding on-site without damaging the original inner coating which remains intact. Syntec has worked collaboratively with ASICORP in the development of this device, providing its know-how in modelling and helping this innovative product to comply with industrial standards. Based on the above, Syntec warrants the compliance with the ASME standard and the reliability of the coupling.
* FINITE ELEMENT ANALYSIS ASME VIII - DIVISION 2
Context
The problem with the traditional welding system used to assemble and build pipelines is that the heat can burn and destroy the inner coatings at some heat affected zones which will require the use of robotic equipment for its subsequent repair. For many site conditions, the quality of the repair will be far inferior to that of the original factory coating. Hence these areas are the weak spot on the pipeline because they are exposed to premature corrosion, having a negative impact not only on its lifetime but also on the operation reliability.
The use of this expensive robotic equipment leads to uncertainty and delays in constructions deadlines. This kind of equipment doesn´t work properly in zones with many curves or pronounced slopes.  
In what refers to piping design and engineering, all the technical issues regarding fluid conveyance lines, such as hydraulic, mechanical, and structural requirements are solved except from internal corrosion in welded joints.
SIDGMAN® Coupling
The SIDGMAN® Coupling is an innovative welded pipe joint designed for steel pipelines that is useful for any diameter or pressure range. It is a two-piece system—one male and one female—that forms an isolated air chamber which allows an easy and fast construction, keeping the original factory inner coating intact.
This innovation allows critical and high-risk activities during pipelines construction and assembly to be dispensed. E.g.: inner coating repair and radiographic inspection.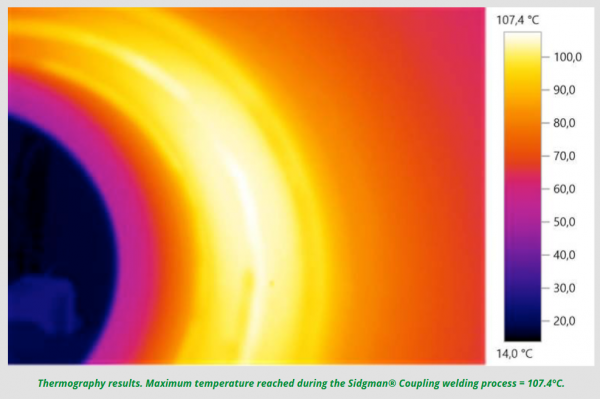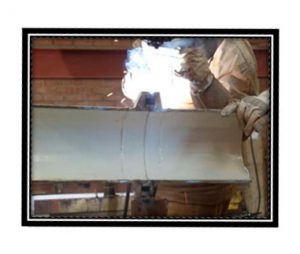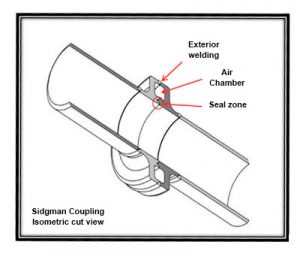 Benefits
The SIDGMAN Coupling offers important advantages for fluid conveyance systems. First of all, it eliminates internal corrosion in welded joints, leading to relevant operational savings since premature replacements are avoided. Hence pipelines lifetime increases significantly.
Besides, pipelines construction costs and time are reduced avoiding critical activities during assembly.
This technology also enables the pipeline construction with no restrictions on the number of welding work zones. The SIDGMAN® Coupling requires lower machinery costs, especially those associated with the utilization of expensive robotic equipment used for repairing the inner factory coating. This advantage allows a faster construction.
Finally, the impact on communities and the environment is reduced because of the minimization of leaks of material due to internal corrosion, which is the main cause of these failures.